Gpo Map Roblox
Roblox does not need any introduction as it is one of the most played gaming platforms in the United States and Canada. There is a wide range of games on Roblox that can keep gamers engaged for hours. One such game that is grabbing the attention of gamers is Grand Piece Online, also known as GPO. The new gameplay and plotting are one of the reasons that gamers are switching to GPO. This new game is also known for its unique map that takes players to different hunting treasures.
What is GPO Map Roblox?
GPO is a multiplayer game where players are required to follow the map to explore new locations., The whole plotting of the game is dependent on these maps, and so players need to understand it. All the GPO players who can understand the map can increase the chances of winning the game.
The best part about GPO map Roblox is the hidden treasures. There are four directions on the map: north, east, south, and north. Players have to move to different locations with the help of a map where challengers and treasures are waiting for them. It is not easy to beat the bosses who are ruling that particular location, which makes the game exciting.
Every gamer looking to level up in GPO is required to explore new locations and islands through the map to collect hidden treasures. It is not easy to get treasures as they are protected by bosses who are pretty difficult to beat. So, every new location has challenges and hurdles that make it difficult to win the game.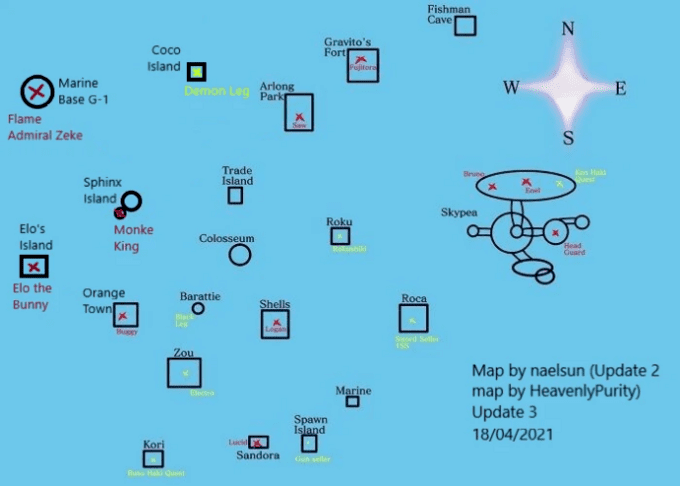 New & Updated Items In GPO Update 4:
Book of Nitoryu (have manga omg)
Book of Spirit (have manga omg)
Cho's crown
Crab Cutlass
Golden Hook
Horned Pilot
Karoo food
Kingdom Guard Outfit
Kraken Armor Set (CHROMA)
Kraken Blade (CHROMA)
Kraken Cape (CHROMA)
Kraken Core (rarest OBTAINABLE ITEM ingame)
Kraken Katana (CHROMA)
Musashi's Crimson Katana (you have 5 chances to get this item)
Musashi's Hat (you have 5 chances to get this item)
Musashi's Karuta (you have 5 chances to get this item)
Musashi's Rose Katana (you have 5 chances to get this item)
Pharaoh Aksha's Cape
Riding Mohican
Ruin Mask
World Scroll
Explain GPO map Roblox?
The map in GPO consists of islands that players have to explore during the game. The hunting for treasures, clearing the hurdles is the only way to complete the given mission and level up the gaming. Let's see which places are the different available direction of GPO map Roblox:
North: In the north, players can find Roku, PVP Island, and Colosseum.
East: the eastern part of the GPO has Runway and Marine, where the marine hurdle is waiting for players.
South: There are two locations in this direction, namely Spawn and Sandora.
West: Players can find five islands in the western direction, namely Mink, Buggy, Shells, Barrie, and Rokushiki.
North -East: It has only one location named Sword.
South – West: It has Haki and Yeti.
Thus, the GPO map Roblox is full of the new island and new location that will make the game very exciting for players.
Is location exist in eth game for all players?
No, all locations do not exist on the map for players as some places are open after reaching a certain level. Players who are willing to explore the location mentioned above are required to be in the First Sea. As the player level up game, restricted places are allowed to them.
FAQs
Which locations are accessible to players?
Players who are on level 10 and above can access Sandora, while above 50 can go for Orange Town. Players at 154 or above can go for Land of the sky, while the high-level players who are at 285 or higher can access Elo's Island and Marine Ford. Thus, players need to speed up to explore new places.
What makes GPO map Roblox exciting?
GPO is a unique game where treasure hunting helps players level up their game and complete their mission. But it is not easy as everything is dependent on the map, and so players have to learn about it and overcome hurdles that come their way.
Conclusion
So, if you too love GPO, try to understand maps to make it easy to complete the mission. Exploring new locations and Islands is one of the reasons that players love to play GPO. The treasure hunt, hurdles, and exploring new places are all about GPO.
Players have to work very hard to complete the mission as it will help them level up the game and access restricted locations. Players who are willing to explore something new have to work very hard to level up their game.