Independence Day Anchoring Script Pdf In English
Independence Day Anchoring Script Pdf In English:
Good morning everyone
Esteemed Principal, prestigious guests, benevolent Principal, and all my fellows on behalf of the entire school family I Anamika welcome you all to the 76th anniversary of our Independence Day.
This Independence Day is very special because our school is celebrating it virtually due to the corona pandemic but the spirit of patriotism is not dampened.With the same Zeal and enthusiasm, let's start the celebration of online Independence Day of our nation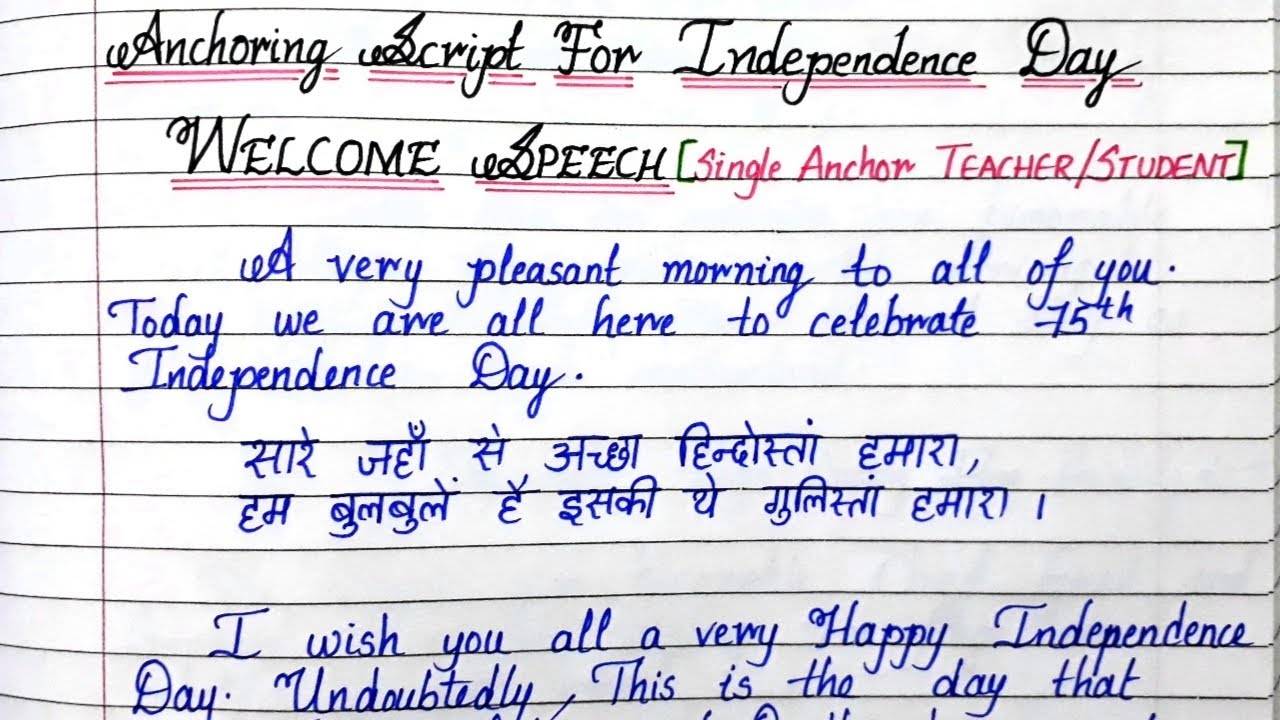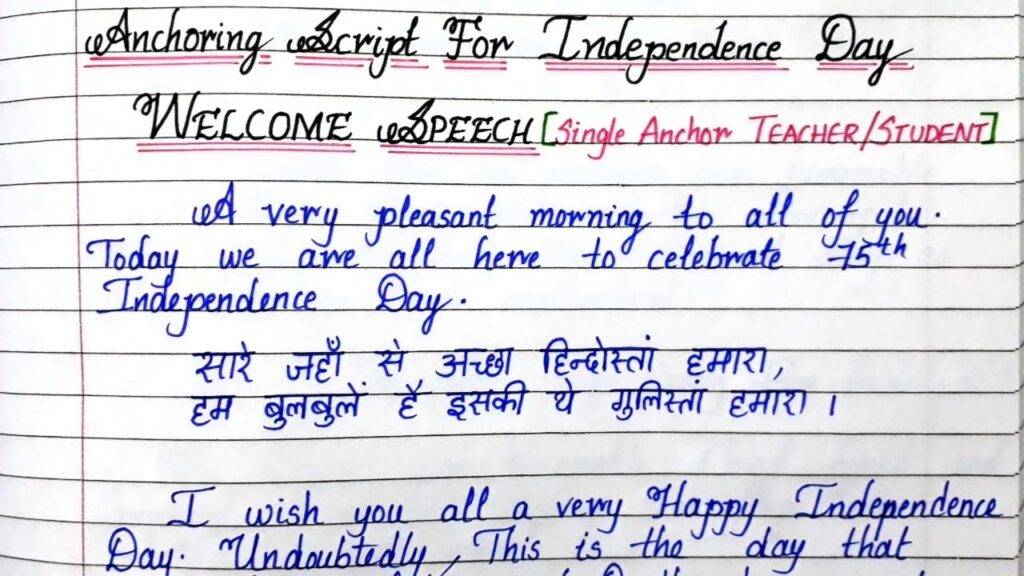 Welcome
It is indeed our proud privilege that Hon'ble Minister of a State for Sports Mr.Sinha is our chief guest. Besides this we have our honorable President who takes watchful interest in all the programs of the school and we have a very inspiring Principal with us.
I extend a warm welcome to all of you on this Independence Day

FlagHoisting

Shortly we are going to have our flag hoisting ceremony so may I request all the distinguished guests to proceed for flag hoisting ceremony

Teen rango kaa hey ya tiranga hai Bharat ki shan
teen rango se bana hai apne Hindustan
Pragati aur Unnati nki rakh do nai misal.

The fluttering tricolour inspires us to dedicate our lives for the service of our nation

we are now going to have a spirited performance we are now going to have a spirited performance national anthem
After the national anthem this is a unique experience for all of us we all have joined together virtually for this celebration .

so now we will have a different type of program today in which about 700 students of different classes are participating .so now let us turn to pre primary kids for their way of celebration.

We dance for laughtcelebrat
We dance for tears
We dance for madness
We dance for fear
We dance for hopes
: We create dreams
Let our dream s come true

We so put your hands together for pre primary kids for their fabulous performance
Our pre primary kids are presenting a fancy dress competition in which they have put on attire of freedom fighters.

It was.so mesmerizing
Musical extravaganza
Now we are going to have a sweet musical extravaganza by the students of class 8 splendid flute performance is coming up

Action dance

Aaj ka din samarpit hai an Desh ke sapoot ko jinhone Apne desh ki Aan ban aur Shan ke liye Apne pranon ki aahuti di hai
So inhi bhavnaon ko pradarshit karte hue ab prastut the ek action dance jisse class 3 ke students aapke samne lekar a rahe hain

This Independence day we all are so different but there's one thing that unites us and its independence
we should honour it and never forget

how hard it was to get and enjoy this beautiful Independence day

Respected parents and everybody else thanks a lot to all of you for joining hands in giving a chance to us to be grateful to you.

Digital Collage of freedom fighters

Virtual celebration has no constraints they have a series of digital Independence day posters and collage of freedom fighters coming up

so let's look at the indomitable spirit of these children that are indeed a beautiful Presentation everyone seemed to have been mesmerized by these colourful presentation by our students

Chief guest speech

Now it is the time for the speech so may I invite chief guest for the virtual speech

Thank you so much sir for your wonderfull words motivating and giving us a new set of path for all the children in the coming days

Primary kids presentation
The world of Pre primary is amazing these kids have prepared a variety of items using three colours of tricolour look at this doll which is so beautifully decorated with the three colours of tricolour

Head boy speech

Coming up next speech by the head boy of our school so now I invite Rohit Mishra on the 75th Independence day.
Thank you so much for your beautiful ideas.

My love for my nation is worthiness
my love for my people is endless
all I desire for my country is happiness
let me be the first person to wish you a happy special Independence day

All enjoyed and for joining us and making this day so special and one of our best is so we wish you all a very happy Independence world
I hope you all enjoyed this presentation I thank each and everyone of you for joining us and making this day so special one of our best is a wish you all a very
Happy Independence day !!!!!