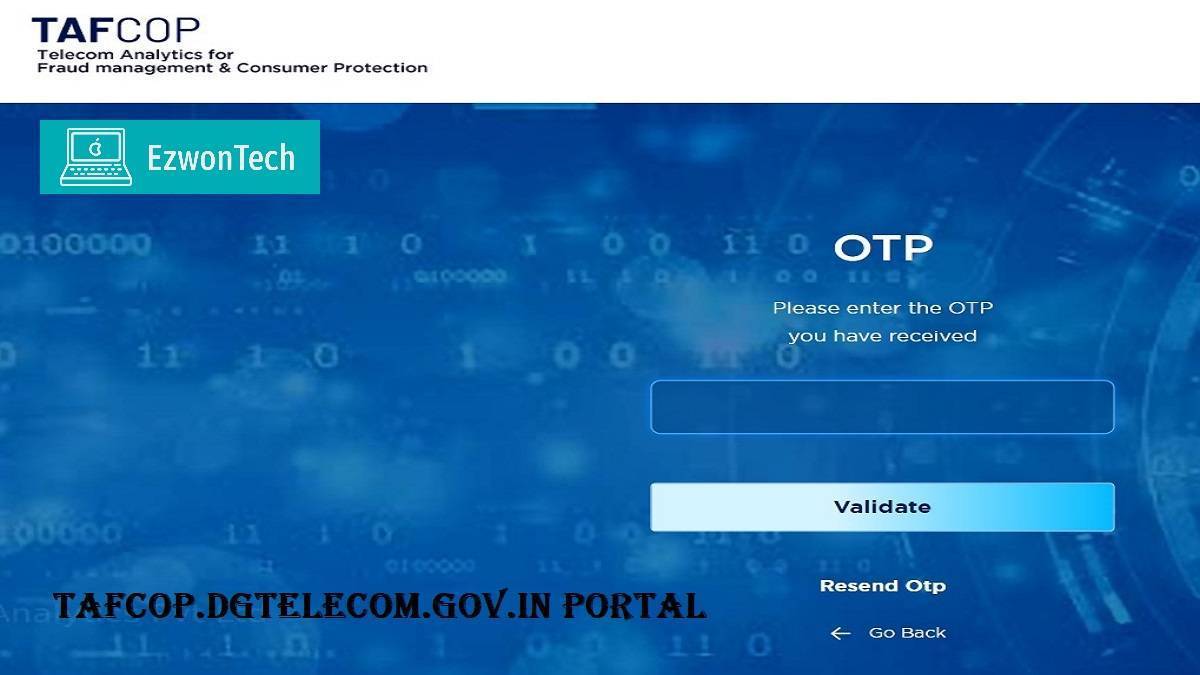 Tafcop.dgtelecom.gov.in Portal is a login process that has been started by the Department of Telecommunications (DoT). The TAF COP Consumer Portal was started in order to enable people to do a proper check on the mobile number that has been registered on their ID.
You will be able to track SIM Card Connections that have been linked to your Aadhar card once you have completed the Tafcop DG Telecom Gov portal registration with your mobile number and OTP.
In this article, you are sure to get more details on how you will be able to connect your radar card with the central government's TAF-COP Portal.
| | |
| --- | --- |
| Name of the Website | Tafcop.dgtelecom.gov .in Portal |
| Article About | Telecom Analytics for Fraud management and Consumer Protection |
| Category | Reviews |
| Author | EzWontech Team |
| Year | 2022 |
How can one find out how many mobile numbers are connected to one Aadhar?
The central government has made sure that from now on, individuals will get to know how many mobile numbers are linked to their Aadhar cards so as to prevent any fraudulent cases.
In order to get the details of your mobile number linked, all you have to do is get to the website of the Telecom Department http://tafcop.dgtelecom.gov.in/index.php#.
Here you will need to log in using your One Time Password which you will receive on your registered mobile number.
Once you have registered using the One Time Password, you will be able to see the list of the total mobile numbers that are registered in your name.
Now you have to take the necessary steps in order to see which of the following numbers are used by you and then the ones not in use.
Now you will be alerted about the respective action you have taken.
Name the states where this facility has started.
The following states are on the list where this facility has started on the concerned website of the Telecom Department:
It is available in Kerala, Telangana, Rajasthan, Andhra Pradesh, Jammu and Kashmir, Mizoram, Arunachal Pradesh, Meghalaya, Tripura, and Nagaland.
This facility of the devices started in order to get the required security using the TAF-COP portal.
What are the advantages of having the TAFCOP DGtelecom Facility?
Many times, it happens that we forget our aadhar somewhere or it is stolen or gets misplaced.
During this time, it can happen that the aadhar gets used by the wrong hands and a new sim card is being produced using this aadhar card even without our knowledge.
For this purpose, the TAFCOP DGtelecom have started a new service that is best for those who are unaware of whom all are using their aadhar for producing the sim card.
The main advantage of logging in to the TAFCOP DGtelecom website is that a customer having more than 9 mobile connections will be notified by the Telecom Department through their SMS facility.
Even if a customer has fewer than 9 mobile connections, it becomes easy for them to check how many mobile connections are already in use, and if they feel it is not necessary for them to have so many mobile connections, they have the facility to take necessary action and remove the ones that are not in use or any connections that were taken without their knowledge.
Can the required action be taken against the mobile connections that are not in use?
The TAFCOP DGtelecom allows the registered mobile user who has logged in using the respective OTP to take the necessary action if they chose to keep the live connection or not.
Once the necessary action is taken, then the user can check the status of his request made using a Ticket ID Ref No in the Request Status box.
It is good to know that the TAFCOP DGtelecom has started such a vibrant step to stop unwanted mobile connections which were not been under control so far.
Now it will be very easy and convenient for mobile users to keep a track of their mobile connections.
FAQ
Is The Website Safe?
Yes, It is completely safe!
How Do I Log In Into The Portal?
There is a button for registration and login, you just have to choose one of them to log in and register.
What is TAF cop portal?
It Is Telecom Analytics for Fraud management and Consumer Protection.