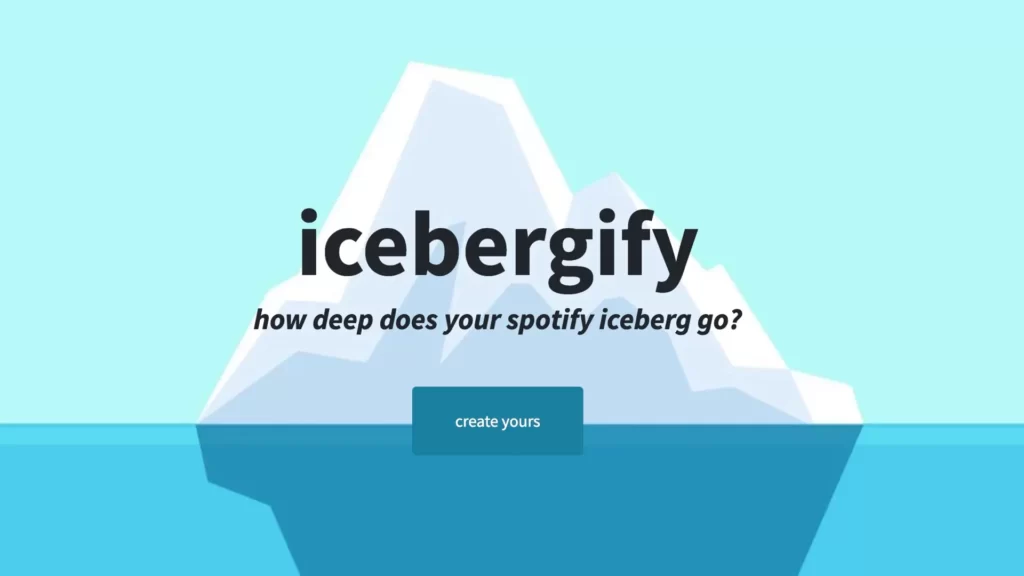 Spotify is a great music app that many people use to listen to music and podcasts of artists all over the world. If you are a Spotify user, you might have seen or heard about Icebergify Spotify.
Do you know what it is or want to know what it is? Continue reading because I'll tell you everything about Icebergify Spotify.
Different trends take place on social media every day, and people try to adopt them. Currently, Spotify icebergs are trending.
Let's know what Icebergify Spotify is
It is an online tool that allows Spotify users to create an iceberg. This iceberg will include the most-listened songs from the top to bottom series.
People also know it as the Spotify iceberg generator. It places artists in descending order, which means that the most played one will be on the top, and the series will continue. This website doesn't save your data; it just scans your data. So you can consider it safe to visit.
This amazing website was created by Mr. Akshay Raj, who has no plans to monetize the website (as of now). He also doesn't have any plan to collect user data for any other reason.
If you also want to create your iceberg, you can visit the website.
How to create an iceberg by using Icebergify Spotify?
Creating your Icebergify Spotify is very easy and just requires a few steps. But you have to log in to your Spotify account and grant access to the website to analyze your data.
Ready to do this? Yes?? Follow the steps-
Go to the official website of icebergify.
Click on the "create yours" option available there.
Log in to your Spotify account.
Once you have successfully logged in, the website will take a while to analyze your data.
After analyzing properly, it will create your iceberg.
That's it. If you face any problem generating your iceberg, try again after some time.
And if you still face the problem, use another browser as it might help you.
Conclusion
If you also want to know which artist you listen to the most, you can use Icebergify Spotify. This website examines your listening history and is safe to use. You can create your own iceberg in just some steps.
Frequently Asked Questions
Is Spotify icebergify safe to visit?
Yes, it is safe as it doesn't save your data.
It just analyzes it and generates the iceberg based on your Spotify history.
What was the reason behind creating Spotify icebergify?
It was created to tell users what they listen to the most. It just examines Spotify history and creates an iceberg where your favorite artists are placed at the top.
How does the Icebergify Spotify website work?
You need to log in to your Spotify account and grant permission to the website to analyze your data.
After you give permission, this website scans your data and creates an iceberg. In that iceberg, the top first artists were ranked.
It collects your data based on your short-term, long-term, and medium-term listening habits.