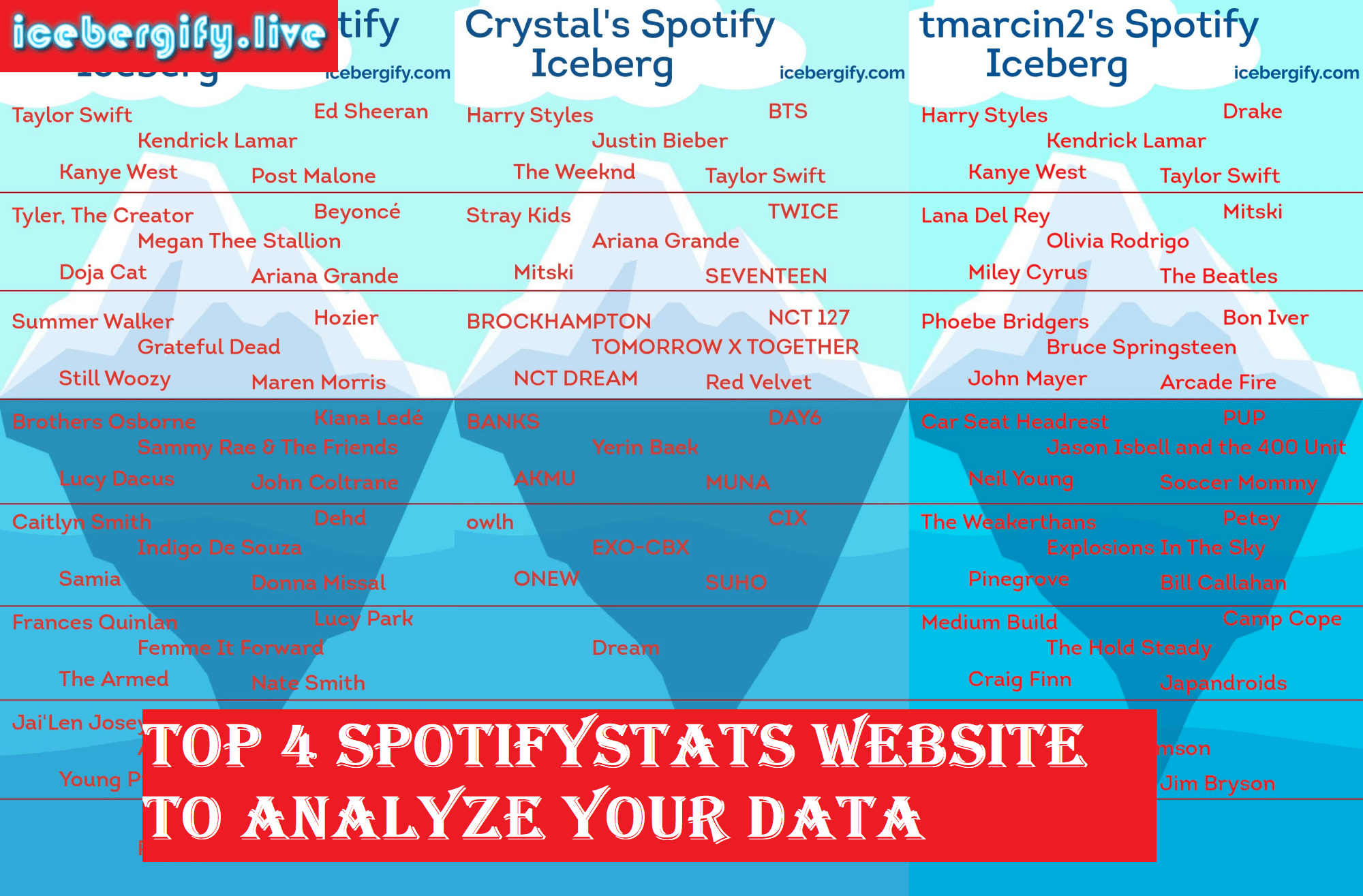 Millions of people use Spotify, and many of them get curious to know about their Spotifystats, like which music they listen to the most, how much time they spend on the platform, etc. But it becomes difficult to know as these things need to be noticed, and when you listen to n number of songs or podcasts, you can't keep data of that. Do you also want to know the stats of your Spotify account? If yes, you must read the article thoroughly, as I'll tell you how you can get the stats.
Here are some platforms that help you inspect your Spotify data –
Spotify wrapped
It is a platform that tells its users about their listening habits. It inspects all the data Spotify collects from your listening history.
After inspecting, it compiles it into a slideshow. This slideshow contains the most listened-to songs and podcasts. The time you spent on the app and the top artists' data from the past 12 months are also included.
Not only this but Wrapped also started providing more features in 2021. Some of these features are the Audio Aura and the movie. Audio Aura is for telling you your music moods, and the movie is for pairing up your favourite songs with movie scenes.
Playing cards – it's a game based on the most listened songs.
Spotify releases this in December every year, and whenever it releases, a notification will appear on the homepage of Spotify telling users about it.
It was first released in 2017, and then it became a trend among Spotify users.
Some more details about wrapped –
You can view the old Spotify-wrapped playlist of your account. Although you need to log in to your Spotify account via browser to view them.
SpotifyStats
It is third-party app users use to track their Spotify habits. It gives them a more detailed analysis of their favourite artists, songs and genres. Not only this, but it also offers users some additional features.
For this, all you need is to link your Spotify account to stats for the Spotify app.
It creates a chart of your loved artists and other things over different time frames.
What else can you find out by using Spotify's personal stats tool?
Following are the data that you can analyse by using this tool –
It shows you the top fifty artists you listen to.
It gives you the data of the most listened tracks, the top 50 ones. You can examine the song you wish to discover more about. You can also top songs to your account in the playlist.
The tool lets you know about the most famous genres you listen to.
You can also analyse the sub-genres that you have never heard of before.
It clearly tells you about the decade you listen to the music from.
Obscurify
Obscurify collects the data from your Spotify account and then compares it to other users. And in result, it shows you how unique your music choice is. ( In percentile).
Via the report it provides you, you'll be able to gaze at the genre stats, obscure songs and artists, and your music mood. With this, you'll also be given some recommendations on your listening habits.
How can you use the obscurify?
Move to the official website of the platform and then link your Spotify account to it. Give all the permissions asked as they are necessary for inspecting your history. Once you do this, you'll be able to see the rank and comparison.
Chosen
It is another website that can tell you about the music you love. It also suggests to its users some new songs based on their listening history.
What can you know if you use chosic?
Well, there is not a single thing that chosic tells you about. It tells about –
Your current favourite artist
Best-loves sub-genre
Dearest musical decade.
Inspects the changes in your musical taste.
Top tracks by moos.
Once you examine your music taste, the platform also suggests your new tracks.
But, to know all these things from chosic, you have to link your Spotify account to the website. And then, you can view all your stats here. You can also watch the data from all time frames – past month, six months and all time.
Stats.fm
It was primarily known as spotistats for Spotify. It helps the users to know their Spotify listening habits on their mobile.
Just like other apps, it also tells you about your listening history by showing –
Most played tracks
Favourite genres
Dearest artists
When and how long do you listen to your favourite stuff. (This is something that other platforms don't tell you about. So if you also want this data, you must use stats.fm).
It also makes your work easy by separating your music history into varied time frames – one month, six months and all time. This makes it easy for you to see which type of music you were listening to and at which time.
All this data will give you a proper analysis of your Spotify listening habits.
To use it, you need to sign up using your Spotify account. Once you do this, you'll be able to view all your stats on the app.
Note – the basic features are free, but you need to buy the premium version of this app for more detailed data.
Volt.fm
It provides users with on-demand insights. It also aids in hunting for newly released music and making custom playlists.
Recently, a new feature was added to let the users know how different their taste is from their friends. The feature is – compare your Spotify tats.
Conclusion
These are some of the applications that let you know about your spotifystats. You can use any of these according to their features and requirements.
Frequently Asked Questions
How much time have you spent on Spotify?
Well, without noticing the time, you can't know about the time spent. But you can use any of the applications mentioned above to look at this data.
How can you see your Spotify stats?
You can use any of the platforms mentioned above, like wrapped stats.FM, etc., for knowing the stats. They just collect your Spotify account data and then analyse it.