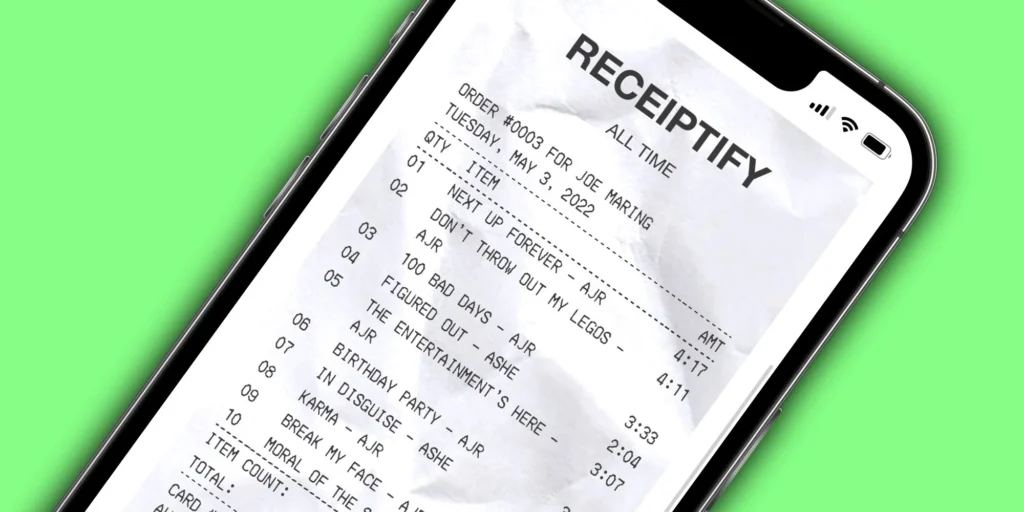 Music is considered a stress booster and the only way to lighten our mood. Everyone has their own choice of music, and it also depends on our mood and timing. But have you ever thought of having your playable list in the form of Receipts? If not, try out Receiptify, a tool that represents our most playable track in the form of a receipt. It shows the length of the track along with your favorite song and artist.
The tool is quite easy to use and hardly takes minutes to get your favorite playlist into a receipt. So, if you wish to see your favorite songs in a receipt and share them with others, check out more about the tool.
What is Receiptify?
Receiptify is a tool that helps to create Receipts based on the playlist. The website and app are created by Michelle Lui and are compatible with some of the common music streaming platforms. Also try, icebergify which is a similar website.
The main aim is to create the receipt based on your favorite playlist. Other tools work with top tracks, but receiving the receipt form is very different. On the right-hand side, it shows the timing of the music, and it feels like a real receipt.
Finding a music list in the form of a receipt is unique. Receiptify works on a simple algorithm that scans the music streaming app and filters out songs that are mostly played and the rare ones.
There are two options for creating a receipt based on the past month, six months, and all times. Creating a Receipt of your music for free and sharing it with others gives a different experience. The receipt created by the tool can be shared on Instagram, Facebook, and other platforms.
How to create a receipt In Receiptify Herokuapp Com?
So, if you have decided to create the music receipt and are willing to check your music taste, follow the below-given steps:
First, visit the site https://receiptify.herokuapp.com/ to create the receipt.
There are three options of music streaming platforms Spotify, Apple Music, and Last. FM. Select any 1 of them to create the list based on it.
Sign in with the preferred credentials based on the music streaming platform. It is important to permit Receiptify so it can scan the playlist.
It will give the option to get a receipt based on the duration. So, one can select the past month, six months, or all.
Based on the selection, a receipt will be created with the top 10 songs, the duration of songs, and the heading showing the user's name.
The created receipt is free to be shared on any preferred social media platform.
Why create music receipts?
We often don't know about our musical sense and think there is no such preference. But with the help of Receiptify youtube music, we would learn about what we like and the music we rarely listen to.
The tool scans the playlist based on the duration and comes up with the top 10 most listened to songs. So, the music we mostly prefer would get in the list based on descending order.
It will also help us know what we are missing and encourage us to try something new. The receipt generator is very simple to use and shows our music taste to us and our loved ones. The list also shows the artist you love to hear and thus gives you a good idea of your music selection.
What to do if Receiptify does not work?
Receiptify has over traffic, and so many times, it does not work. So, don't get panic and check out the below reasons that show why the tool is not working:
The music streaming account is not working as required, so Receiptify can't access data.
There is an error in the server connection. The overload traffic brings down the server. In this case, try out after some time.
Receiptify works with pop-ups, so if it is not enabled in the browser, the tool won't work. So, make sure to enable the pop-up before using Receiptify.
Try restarting the internet or computer if Receiptify is not working as required.
Is Receiptify even for apple music?
Yes, All the Apple users who wish to create a receipt based on Apple music would be happy to know that Receiptify is compatible with it. So, if you are listening through apple music and wish to create the top songs receipts based on it, follow the given steps:
First, go to Receiptify and click on "Apple music."
Click on settings -> Preference -> Websites ->press "pop-up Windows".
Tap on "Allow" so that Receiptify can access data from your Apple music. That's it, and it will scan the playlist, filter it out and create the receipt.
So, Apple music which is very hard to get compatible with any third-party apps, is also working with Receiptify and thus allows the creation of receipts.
What is there in the receipt?
Receiptify creates the receipt as we have done shopping or amid restaurant bills. It scans the music streaming platform and filters data. There is an option where users can select whether they want it based on the past month, six months, or all time.
This selection will make the algorithm filter out data and create Receipts accordingly. The receipts have the following details:
The list would have a description and amount, giving a real receipt feel. It has 10 top songs, which look like 10 items.
The description section would have the name of the song and artist. Under the amount, section will be the length of the particular song.
The receipt also has a heading consisting of the app's name followed by the month base don. Based on your selection, it would be like the past month, six months or all-time.
The heading would also have the user's name followed by the day and date.
Thus, it has information designed such that, at first glance, it will look like a real Receipt. So, do try it out to know your music taste.
Pros
Receiptify is free to use and is compatible with PC and smartphones.
It allows for creating receipts based on Spotify, last.fm, and even apple music.
It only asks to log in with credentials and allows Receiptify to access data. It would allow us to scan the music list.
Receiptify does not store users' data and thus is completely safe and secure.
The created receipts have top 10 songs along with length, artist name, your name, date, and much more.
Everyone is free to share the receipt on social media platforms to show the receipt to friends and family.
The main aim is to show yourself your music taste and the genre you prefer over others.
Receipts created by Receiptify is quite accurate, so it is a reliable tool.
FAQs
Is It Free?
Yes, Receiptify Is A Completely Free Tool. It Was Developed As A Project But Now Had A Massive Fan Following. People Are Finding It Quite Accurate And Thus Generating The Music List As A Receipt.
How To Connect With The Developer?
Liu Gives An Option For His Users To Stay Connected, So One Can Write An Email At [email protected] Or Even DM On Instagram To Resolve Any Unexpected Queries.
Can We Share The Receipts?
Yes, The Music Receipt Created At Receiptify Is Shareable. One Can Share It With Friends And Family On Social Media And Show Their Taste In Music To All.
Which Music Streaming App Is Compatible With Receiptify?
Receiptify Is Compatible With Spotify, Apple Music, And Even Last.Fm. Developers Are Working To Make It Compatible With Other Music Streaming Platforms, But Currently, Only You Can Get A Receipt Based On These.
Can We Share Receipts On Social Media Platforms?
The Receipt Created By Receiptify Is Free To Share On Any Platform Like WhatsApp, Instagram, Facebook, And Many Others. It Shows Your Music Taste To The World.
Is Receiptify Safe?
Receiptify Is Completely Safe As It Just Needs To Log In With Your Music Streaming Credentials To Generate The Receipt. The Data Is Not Stored And Not Even Shared With Third Parties.
Can We Remove Receiptify Access From Spotify?
Spotify Gives The Option To Remove Third-Party Apps, Even Receiptify. So, Log In With Your Credentials, Click On The Apps Option, And Remove Access To Any Apps.
Conclusion
So, if you too are an avid music listener, Receiptify is best for you. Try generating receipts based on the past month, six months, and even all time to know what you love to listen to.
It is completely safe and is compatible with most popular music streaming platforms. The tool is free to use and comes up with accurate results.